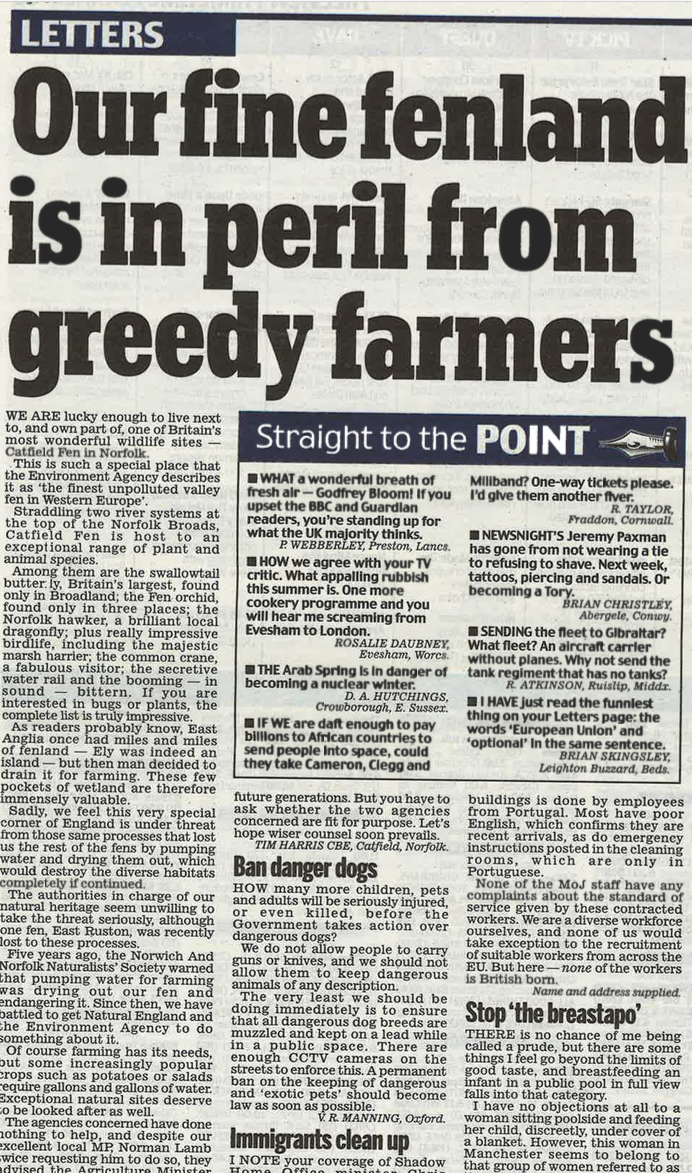 We are lucky enough to live next to, and own part of, one of Britain's most wonderful wildlife sites – Catfield Fen in Norfolk.
This is such a special place that the Environment Agency describes it as 'the finest unpolluted valley fen in Western Europe'.
Straddling two river systems at the top of the Norfolk Broads, Catfield Fen is host to an exceptional range of plant and animal species.
Among them are the swallowtail butterfly, Britain's largest, found only in Broadland; the Fen orchid, found only in three places; the Norfolk hawker, a brilliant local dragonfly; plus really impressive birdlife, including the majestic marsh harrier; the common crane, a fabulous visitor; the secretive water rail and the blooming – in sound – bittern. If you are interested in bugs or plants, the complete list is truly impressive.
As readers probably know, East Anglia once had miles and miles of fenland – Ely was indeed an island – but then man decided to drain it for farming. These few pockets of wetland are therefore immensely valuable.
Sadly, we feel this very special corner of England is under threat from those same processes that lost us the rest of the fens buy pumping out water and drying them out, which would destroy the diverse habitats completely if continued.
The authorities in charge of our natural heritage seem unwilling to take the threat seriously, although one fen, East Ruston, was recently lost to these processes.
Five years ago, the Norwich and Norfolk Naturalists' Society warned that pumping water for farming was drying out our fen and endangering it. Since then, we have battled to get Natural England and the Environment Agency to do something about it.
Of course farming has its needs, but some increasingly popular crops such as potatoes or salads require gallons and gallons of water. Exceptional natural sites deserve to be looked after as well.
The agencies concerned have done nothing to help. The agencies concerned have done nothing to help, and despite our excellent local MP, Norman Lamb twice requesting him to do so, they advised the Agriculture Minister not to cal the question in for independent expert investigation.
We have no financial interest – in fact, this process, including hiring lawyers and experts to try to get the question reconsidered, is costing us a great deal. We just want to keep this wildlife haven intact for future generations. But you have to ask whether the two agencies concerned are fit for purpose. Let's hope wiser counsel soon prevails.