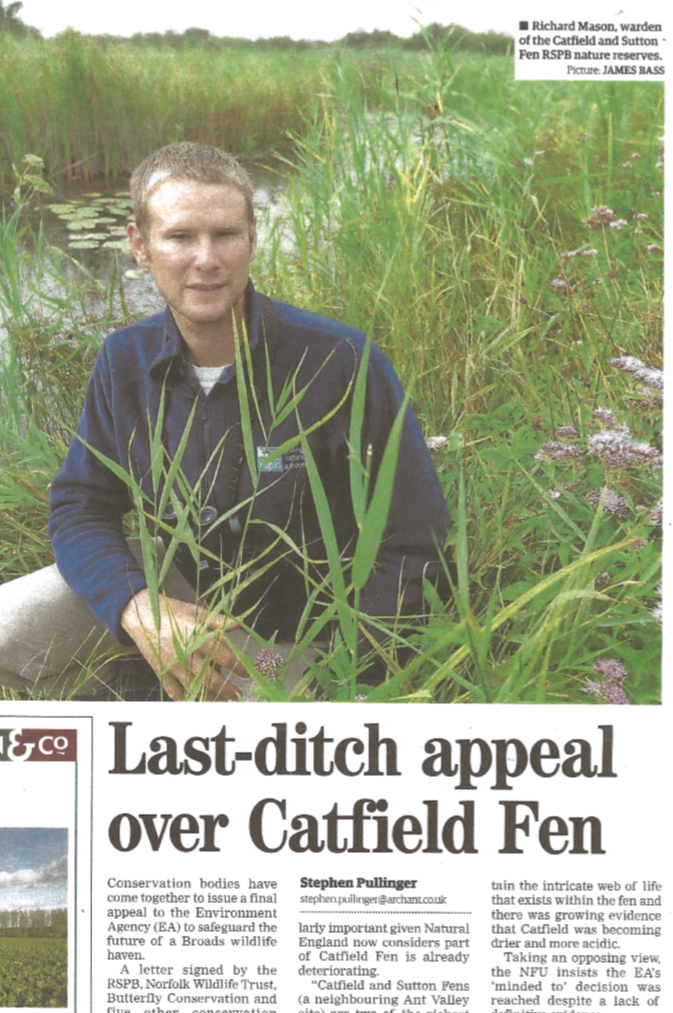 Conservation bodies have come together to issue a final appeal to the environment agency (EA) to safeguard the future of a Broads wildlife haven.
A letter signed by the the RSPB, Norfolk Wildlife Trust, Butterfly Conservation and five other organisations commends the EA's 'minded to' decision to refuse continued water abstraction from the two boreholes closest to Catfield Fen nature reserve.
However, following the close of public consultation and ahead of its final decision, expected in February, the letter calls on the EA to fully consider important new evidence – not part of its previous deliberations – that further underlines the damage water abstraction is causing.
It says: "This is particularly important given Natural England now considers part of Catfield Fen is already deteriorating.
"Catfield and Sutton Fens (a neighbouring Ant Valley site) are two of the richest wetlands in Europe. Together, they are home to large populations of swallowtail butterflies, water voles, and Norfolk hawker dragonflies. Their reedbeds and ditches are also home to cranes, bitterns, marsh harriers and otters.
"Catfield Fen is one of Butterfly Conservation's premier reserves and of the four remaining UK fen orchid colonies, it is the most important."
The letter points out that a perfect balance of alkaline ground water and acidic rain water was needed to maintain the intricate web of life that exists within the fen and there was growing evidence that Catfield was becoming drier and more acidic.
Taking an opposing view, the NFU insists the EA's 'minded to' decision was reached despite a lack of definitive evidence.
And it says farmers who rely on abstracted water to grow irrigated crops near Catfield Fen are being placed in an almost impossible situation by the licence renewal process.
The NFU claims new issues have been raised at a late stage, which the farmer applicant Andrew Alston has not had the time or resources to analyse and potentially rebut; and that insufficient weight is being given to the public benefits farming delivers within the Norfolk Broads.