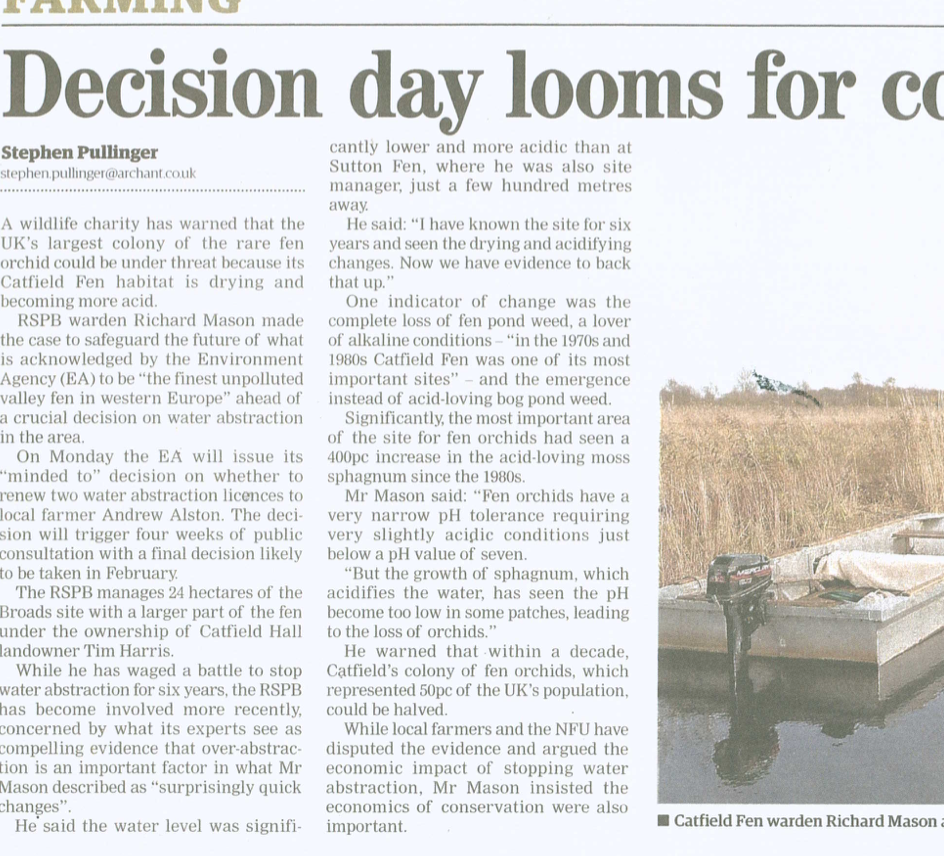 A wildlife charity has warned that the UK's largest colony of the rare fen orchid could be under threat because its Catfield Fen habitat is drying and becoming more acidic.
RSPB warden Richard Mason made the case to safeguard the future of what is acknowledged by the Environment Agency (EA) to be "the finest unpolluted valley fen in western Europe" ahead of a crucial decision on water abstraction in the area.
On Monday the EA will issue its "minded to" decision on whether to renew two water abstraction licences to local farmer Andrew Alston. The decision will trigger four weeks of public consultation with a final decision likely to be taken in February.
The RSPB manages 24 hectares of the Broads site with a larger part of the fen under the ownership of Catfield Hall landowner Tim Harris.
While he has waged a battle to stop water abstraction for six years, the RSPB has become involved more recently, concerned by what its experts see as compelling evidence that over-abstraction is an important factor in what Mr Mason described as "surprisingly quick changes".
He said the water level was significantly lower and more acidic than at Sutton Fen, where he was also site manager, just a few hundred meters way.
He said: "I have known the site for six years and seen the drying and acidifying changes. Now we have the evidence to back that up."
One indicator of change was the complete loss of fen pond weed, a lover of alkaline conditions – "in the 1970s and 1980s Catfield Fen was one of its most important sites" – and the emergence instead of acid-loving bog pond weed.
Significantly, the most important area of the site for fen orchids had seen a 400% increase in the acid-loving moss sphagnum since the 1980s.
Mr Mason said: "Fen orchids have a very narrow pH tolerance requiring very slightly acidic conditions just below a pH value of seven.
"But the growth of sphagnum, which acidifies that water, has seen the pH become too low in some patches, leading to the loss of orchids."
He warned that within a decade, Catfield's colony of fen orchids, which represented 50% of the UK's population, could be halved.
While local farmers and the NFU have disputed the evidence and argued the economic impact of stopping water abstraction, Mr Mason insisted the economics of conservation were also important.