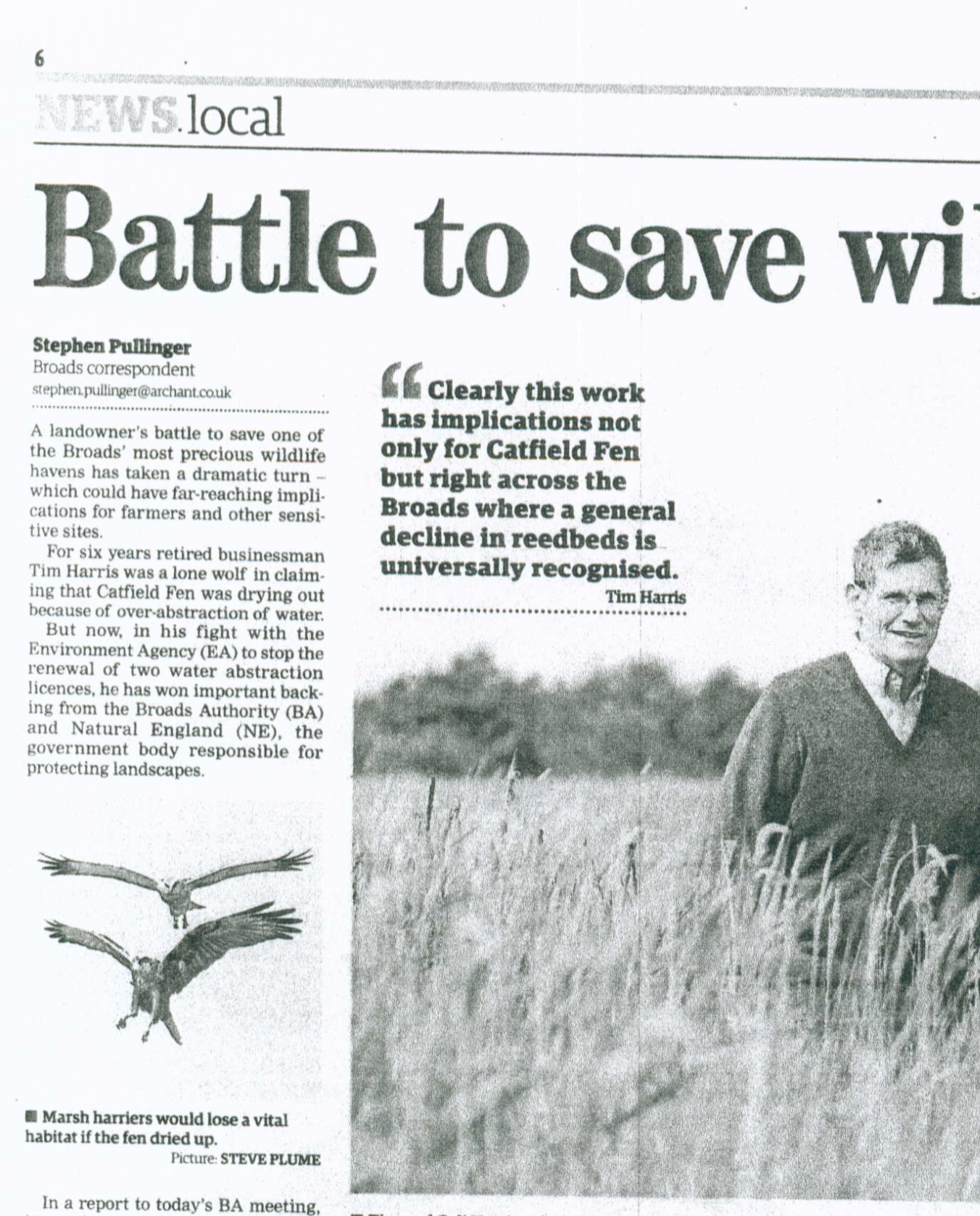 A landowner's battle to save one the Broads' most precious wildlife havens has taken a dramatic turn — which could have far-reaching implications for farmers and other sensitive sites.
For six years retired businessman Tim Harris was a lone wolf in claiming that Catfield Fen was drying out because of over-abstraction of water.
But now, in his fights with the Environment Agency (EA) to start the renewal of two water abstraction licenses, he has won important backing from the Broads Authority (BA) and Natural England (NE), the government body responsible for protecting landscapes.
In a report to today's BA meeting, its senior ecologist, Andrea Kelly, States that the findings of the authority's officers, supported by evidence from leading expert Professor Ken Ruston, point to serious failings in the EA's modelling approach.
She concludes: "Given the shortcomings of the conceptual models and computational modelling, the results from the modelling are not reliable and should not be used for license determination."
In a further shift, NE has also now intervened an stated in its formal response to the EA that the evidence it has supplied is not sufficient to rule out the risk of environmental harm if the abstraction licenses are renewed.
As a result of the submissions, the EA has said in a letter to Mr Harris that it will be delaying its provisional decision — which will then be subject to public consultation — by a further month to allow more discussion with the consultees.
However, Mr Harris, 66, who has spent tens of thousands of pounds battling to save the site, split between his Catfield Hall estate and neighbouring land managed by the RSPB, said a decision on the licenses had already been allowed to drag on since 2010 — time was critical as experts agreed it might soon become too late to reverse the damage.
That would mean the loss of habitat acknowledged by EA to be "the finest unpolluted valley fen in western Europe" and along with it such iconic Broadland species as the swallowtail butterfly, Marsh Harrier, Norfolk Hawker dragonfly and fen orchid.
Retired businessman Mr Harris said: "clearly this work has implications not only for Catfield Fen but right across the Broads where a general decline in reedbeds is universally recognised."
He said further discussion would not resolved the fundamental problems highlighted by Prof Ruston and, employing the precautionary principle that the law dictated must be followed at a site covered by the highest levels of international conservation legislation, it was time to turn off the taps now.
Ahead of the meeting, Ms Kelly said: "The decision for this abstraction rest with the EA.
"However, we don't feel their tools are fit for purpose and unless they produce more evidence they should use the precautionary principle and that might mean enforcing a more sustainable abstraction process, work curtailing were even refusing the license."
An EA spokesperson said: "NE and BA have called for verification on a number of points in our consultation document and we are now working with them to provide further detail."